SONOTEC presents new 3D video showing latest sensor technology in biopharmaceutical manufacturing
September 13, 2023 – BioManufacturing, Biotechnology, Drug Delivery, Drug Discovery, Pharmaceutical –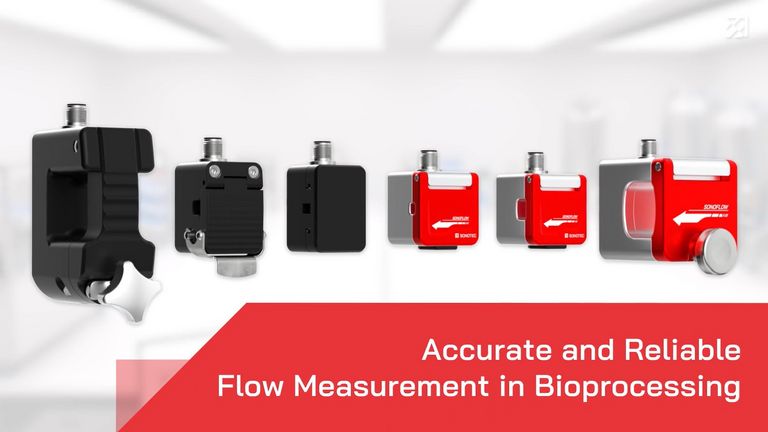 13 September 2023 – The new 3D video impressively shows how SONOFLOW CO.55 flow sensors and SONOCHECK ABD06 air bubble detectors can make the bioprocess stable, more efficient and safer. The video illustrates the convenient sensor set-up combining clamp-on measurement technology and compact sensor design with the smallest footprint on the market.
Flow measurement and air bubble detection are essential in bioprocessing to achieve an excellent reproducible product quality. In the animated video, SONOTEC demonstrates the installation of SONOFLOW CO.55 non-contact clamp-on flow meters and SONOCHECK ABD06 ultrasonic air bubble detectors at various steps in bioprocessing. Users learn more about the synergies provided by implementing both ultrasonic compact sensor types.
The video shows how conveniently flow meters can be used to monitor and control the flow rate and the flow volume in a process. As a critical process parameter, highly accurate real-time process flow and volume data ensures excellent quality and reproducibility for PAT related bioprocessing. Additionally, the fill and finish step highlights the implementation of air bubble detectors that detect even smallest air bubbles, for example, to ensure exact volume dosing in vials.
The 3D video shows possible installation positions in the bioprocess of non-contact SONOFLOW CO.55 flow meters and SONOCHECK ABD06 air bubble detectors to keep the process stable and efficient in the long term.